I bought ingredients for Chex Mix a week ago and the peanuts were gone within 2 days, the pretzels are nearly gone, and so I have a lonely box of corn Chex in my cupboard.
(Question: do people actually buy a box of corn Chex, a box of wheat Chex, AND a box of rice Chex when they make Chex Mix? What do they do with the 3 boxes of Chex, two-thirds full?)
I briefly considered buying more peanuts and pretzels, but lets be honest, Chex Mix makes me poo.
So on the rare morning that I had time for breakfast alone I felt the need to commemorate: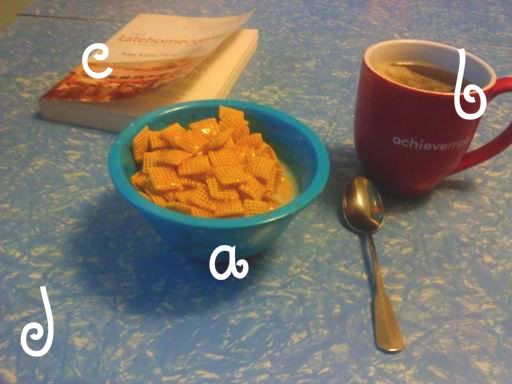 a)
Corn Chex with honey and skim milk in my recycled plastic bowl that sometimes leaves flakes of recycled plastic in my food and sometimes cracks, spilling its contents. But hey! I'm being green.
b)
Tazo ginger tea in my AchieveMpls mug. Perfect tea, perfect mug.
c)
The Latehomecomer: a Hmong Family Memoir
by Kao Kalia Yang. I recommend it. Especially to people I've had to explain "why all those Asians are here anyway." Just read the book.
d)
Retro blue/white-flecked table my mom bought for me at an antique store and is the perfect breakfast table (it was demoted from everymeal table when Little Frog came along and we needed more room for dinner).
Gotta get going. Swimming lessons this morning and then The Mastermind comes home from his trip to Nevada today and I have to pick raspberries and green beans because I said I would every day and didn't (hey I started picking beans, but there are huge brown spiders on the plants! Disgusting.), and maybe wash my hair. Not sure when I did that last (in my defense, Ma Ingalls only washed her hair once a week and if it works for Ma Ingalls, it works for me).